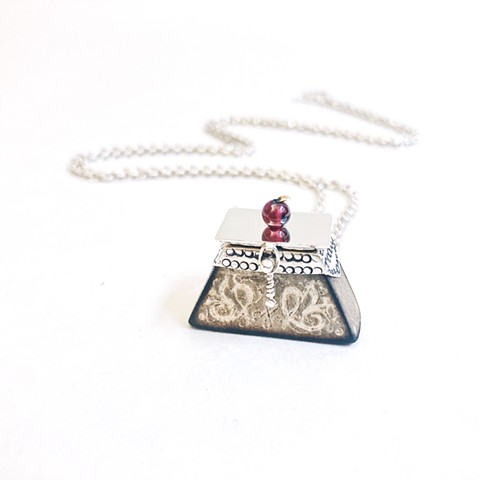 Iðunn's Apple
Sterling silver, bronze, holly wood, garnet & 23k gold.
Chain 24" Pendant 1" x .75"
2020
$953
Iðunn's Apple
Apple Casket Necklace
"In Norse mythology, Iðunn (pronounced 'eth-oon') is known as the 'maiden of the Norse gods and the goddess of eternal youth'.  She carries a special wooden casket around the land of Asgard filled with magical apples that the gods partake in when feeling weak or aged.  The apples of Iðunn were the elixir of eternal youth.  Iðunn was married to a son of Odin, Bragi, who was the poet and harp minstrel of the gods. Between the two of them, they brought rejuvenation of the soul and spirit with the physical essence of playful youth.
During my experience in COVID quarantine, I found myself playing my musical instruments more, cooking fine meals of great nourishment and making time to play with my new love and his son.  There were moments of challenging adaptations surrounding us and our home. Through the Arts, Unconditional Love and Healthy Cooking we were reminded of the true essence of living; the Holy Grail of life. I believe these are the ingredients that reside in the magical apples of Iðunn and Bragi."
This piece was on display at Maine Craft Portland, Maine Crafts Association Gallery, as part of a group exhibition, "The Holy Grail: Miraculous Items of Power".